Residents pay tribute to a man they say represented the best of American politics, with a dignity and decency some fear is disappearing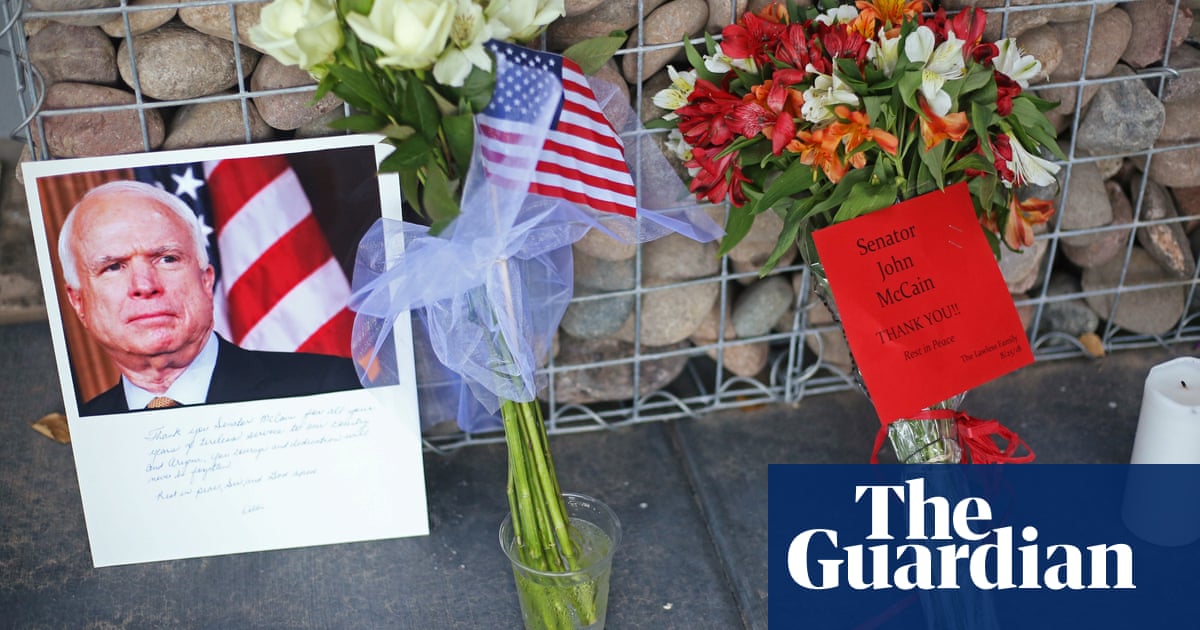 Julieta Delgado laid flowers outside John McCains Senate office in Phoenix, then buried her face in her partners arm. They stood for a moment by the collection of bouquets, wilting in the summer heat, and homemade cards that decorated the entryway of the otherwise nondescript building.
Delgado is a clinical researcher at the Mayo Clinic in Phoenix, where McCain received treatment. She said their politics were not always aligned but she admired his courage especially as shown in his middle-of-the-night vote last year, to save the Affordable Care Act.
She pantomimed the dramatic thumbs-down McCain delivered on the floor of the Senate that doomed a Republican plan to repeal the healthcare law.
That was so courageous, she said, her voice swelling with emotion.
To Delgado, the late senator represented the best of American politics, a dignity and decency she fears is disappearing in an era of cynicism and partisanship. When she heard McCain had died on Saturday, she wept.
He always took the right side, the side of the good people, regardless of his politics, she said. Its going to be very difficult to fill his shoes.
McCain, a Vietnam war hero, two-time presidential candidate and one of the most influential American politicians of his generation, died after a year-long battle with an aggressive form of brain cancer.
In a statement, Arizona governor Doug Ducey said McCain will lie in state at the Arizona capitol on Wednesday. It would have been his 82nd birthday. On Thursday, friends, family and local leaders will celebrate his life and legacy at a public service at North Phoenix Baptist Church. Former Vice President Joe Biden will eulogize McCain, his longtime friend and onetime rival.
Ducey described the service as a rare and distinct occurrence for a truly special man.
John McCain is Arizona, and we will honor his life every way we can, he added.
McCains body will then be brought to Washington, where on Friday the Republican will lie in state at the US Capitol. The following day, he will receive a full-dress funeral service at the Washington National Cathedral before he is laid to rest on Sunday at the US Naval Academy cemetery, in Annapolis.
McCain was not a native son of Arizona but he represented the state in Washington for more three decades. After he retired from the navy, he remarried and settled in Phoenix in the early 1980s. He entered politics almost immediately.
Some old political hack advised John to start slowly, said Marshall Trimble, the states official historian who met McCain soon after he moved here. But that wasnt his style. He just jumped right in. He wasnt someone who let the grass grow under his feet.
Trimble recalled on one of their first meetings, when he led the retired Navy pilot on a horseback ride through the craggy Superstition Mountains. At the time, McCain was still more comfortable in a cockpit than in the saddle. But, Trimble said, he cowboyed up.
We were in the saddle all day long and he just stuck right with us. He didnt complain at all, he said. I realized then that he was one tough guy.
During his first run for Congress in 1982, McCains political opponents attacked him over his recent relocation to the state. The decorated war hero responded in a line he would reprise again and again that until moving to Arizona, the longest he had lived anywhere was an unexpectedly lengthy stay in Vietnam, at the Hanoi Hilton. That settled the issue.
McCain served two terms in the House of Representatives, from 1983 to 1986. When Senator Barry Goldwater retired in 1986, McCain ran for his seat and won. In total, Arizona sent him to the Senate six times.