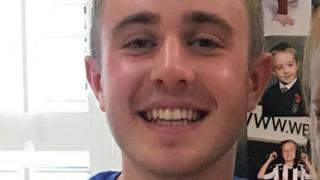 A second man has been arrested on suspicion of murder in connection with a missing university student.
Thomas Jones, 18, from Bromsgrove has not been heard from since the early hours of Wednesday morning.
A 20-year-old from Worcester is in police custody along with another man, also aged 20.
Prior to the second arrest West Mercia Police shared CCTV images, of two men they wanted to speak to, recorded at the city's Velvet nightclub.
Both men were arrested on Sunday.
The force said it believed Mr Jones had crossed the Sabrina footbridge, which crosses the River Severn near to Worcester Racecourse, and then walked on to the footpath that runs along the top of the flood defences on Hylton Road in the direction of Hallow, just before 03:50 BST.
Supt Damian Pettit said: "We are continuing the investigation with a number of lines of inquiry and will keep the community updated with developments in our continued investigation.
"Thomas' family has been made aware of the updates and they are being supported by specially trained officers."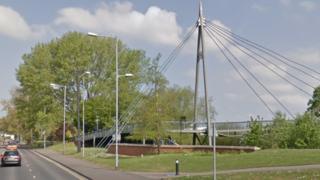 As searches are ongoing, police have asked people to "kindly stay away" from the area to allow officers and divers to work "without distraction".
They said there had been an "unprecedented response" to the case, with hundreds of volunteers supporting the investigation.
Mr Jones was embarking on a primary teaching course at the University of Worcester and had only moved to the city on 16 September.
His aunt, Jackie Rogers, said a "small army" was carrying out house-to-house inquiries in and around Hylton Road and was determined to "find our boy".
Mrs Rogers said the teenager sent a Facebook message to a friend at 03:46, but no-one had heard from him since.
Mr Jones was believed to have been wearing pale-coloured jeans, a navy blue, woollen zip-up Lacoste top and green shoes at the time of his disappearance.
Appeals for information have also been made by West Bromwich Albion Football Club, where Mr Jones was a season ticket holder. Aston Villa FC have also publicised the search for him.