The world of motor racing is divided over the merits of the W Series that had aimed to help female drivers crash through a glass ceiling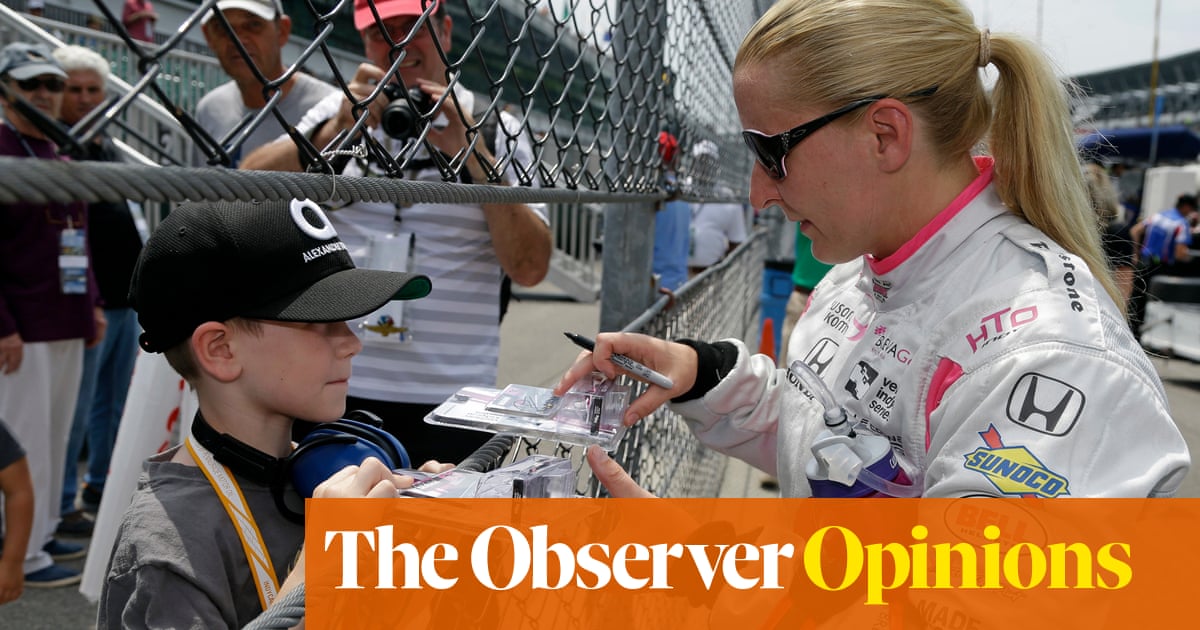 Sometimes you just have to sit one out. Like this year, when the FA announced it was now using Disney princesses to get girls playing football. Sure, I felt my insides clenching with a buildup of lactic irony, felt the rush of ready sarcastic remarks to my brain. And yes, there was every chance that the campaign was reinforcing the very stereotypes it was trying to overcome. But as addled ideas go, it was not footballs most offensive. Who was I to judge, anyway? I still cried when I watched Brave.
The thought recurred this week, when the creators of the W Series announced their new just-for-women single-seater motor racing competition. It aims to provide a nurturing home for female drivers still struggling to break the glass ceiling and make it to the upper echelons of global motorsport in particular Formulas 3, 2 and 1. So far so feminist, at least according to the organisers, who have been privately refining their pitch for many months and would like the world to welcome it as a grand narrative of female empowerment.
But as the men and ahem womxn of the Wellcome Collection discovered, even the most woke of intentions can get people upset. After the W Seriess public unveiling, petrolheads amassed online to lob molotov cocktails at the schemes stated aims. Separate is not equal! said one. This puts gender equality back 50 years! claimed another. Oppression masquerading as opportunity is still oppression
The last belonged to the W Seriess most formidable opponent, Pippa Mann, the British Indycar racer and fastest female driver in history, who said her own invitation to take part made her skin crawl, and accused the organisers of preying on vulnerable racers starved of sponsorship.
We can safely assume that Mann has experienced plenty of patronising behaviour in her career and that she knows whereof she speaks. That she, like many of the greatest female drivers today, has sought her opportunities in the world of US motorsport says plenty about the entrenched attitudes of sponsors elsewhere.
Why shouldnt Mann and others be sceptical of the W Seriess claims that it can help bounce women up the ladder to the big leagues? The new competition is, after all, endorsed by Carmen Jorda, the FIA honcho who is on record saying that her own kind will never be able to compete physically against men in Formula One. Which makes it sound that to some at least, the W Series might look a lot like a consolation prize.
Then again, isnt any gesture towards bridging the gender gap worth our consideration in a sport so institutionally sexist that it was still defending the role of grid girls until the start of this year?
A community so removed from the non-watch-sponsored-world that it has only just realised that maybe the use of women as human place-holders before a race isnt quite reflective of their place in modern society?
It seems a tad overdramatic to treat the, by all accounts well-intentioned, W Series like an all-out assault on human rights (Mann encouraged female drivers to tweet their photos to #TheResistance, so expect a new conspiracy among Breitbarters about a helmeted, heat-resistant army of antifa any day now).
Remember Formula Woman? I bet you dont. It was another of those notions that seemed like a good idea to someone, somewhere, at the time a made-for-ITV single-gender racing series to uncover and promote female drivers. It sounded like one of those vitamin supplements that promises to pep you up and its ambition was to create a fleet of female rolemodelracing-drivers and encourage more women to watch motorsport.
Formula Womans creators decided, for reasons never quite articulated, that the best way to achieve this was to source a cast of utter novices and whittle them down to a starting grid using the ever popular reality-show elimination format, their boot-camp survival based not only on their driving and fitness but also, bizarrely, their presentation skills.
Pop Idol meets The Fast and the Furious meets The Apprentice but for girls. How could it fail? In a number of ways, it turned out. Beginner racers tended to crash quite a lot and Mazda withdrew its cars at the end of Formula Womans first season. It lost its principal sponsor, its TV coverage was halved and within three years it had fizzled out like a wet weekend in Hockenheim.
When was that? In 2007. Just think about it 11 years ago, calling your enterprise Formula Woman was still considered relatively cringe-free. Thats how rapidly our perceptions of what constitutes equality are shifting. Needless to say, the racers have not gone on to become household names. Its hard not to look back and wince at the whole affair.
Should we be nervous, then, about the W Series? Will history judge us for backing another segregated motorsport competition, a fortnight after Ana Carrasco won the World Supersport 300 title, becoming the first woman to be a motorcycle world champion?
Perhaps. But perhaps we should just be grateful that theres debate about this stuff at all. Its considerable progress from having to listen to Bernie Ecclestone tell us that a woman would never be taken seriously in F1 (2016) or Sir Stirling Moss happily opining that women dont have the mental aptitude needed for the job (2013). If the W Series does turn out to be a regressive step, it wont be turning the clock back that far.